Cincinnati Divorce, Dissolution and Juvenile Custody Legal Representation
Family law, which is also referred to as domestic relations, encompasses a number of areas, and includes divorce and dissolution, juvenile custody, and support matters. It also covers post-divorce issues such as modification of child support, modification of custody, and contempt proceedings. Donnellon, Donnellon & Miller has a robust background in family law. Several of our attorneys are seasoned veterans of Greater Cincinnati's family law courts, and bring a tremendous amount of experience to bear in this field.
Divorce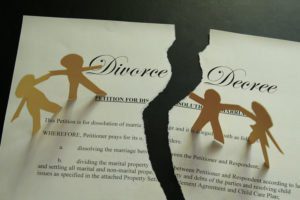 A divorce refers to the process in which one party files a Complaint for Divorce with the Domestic Relations Court, asking the Court to terminate the parties' marriage. After that formal complaint arrives, the other party files a response. At the onset of the case, either party may request temporary orders regarding custody of the children, child support, and/or spousal support. Also, either of the parties may request a restraining order regarding the use of the marital residence and the use of marital assets. Specific to a divorce, in contrast with a dissolution as described below, is what the Court decides. The Court, not the parties, may decide who receives custody of the children, how much child and spousal support is paid, and the manner in which the parties' assets are divided. Even the best divorce attorney in the state cannot always ensure that the Court will act fairly in all divorce rulings. Regardless, the majority of divorces are actually resolved by agreement — or at least in part –with only a few issues decided by the Court. The seasoned, experienced legal team at Donnellon, Donnellon & Miller can help you and your spouse arrive at an agreement, so that you need to involve the Court as little as possible.
Dissolution
A Dissolution is a proceeding by which the parties agree to all issues in what is called a Separation Agreement, and then submit their agreement to the Court. The Separation Agreement addresses the division of the assets and debt, spousal support, and custody and support of the children. In some cases, however, the parties may separately agree to a Shared Parenting Plan, which covers the issues related to the children. After the parties have reached an agreement on all issues, a Petition for Dissolution is filed with the Court. The Court will then conduct a hearing no sooner than thirty (30) and no later than ninety (90) days later, at which both parties must appear. The hearing is very brief, and is limited in scope. The only issue is whether the parties have agreed to all the issues, whether they believe the agreement is fair and equitable to them, and if they agree that the provisions for the minor children are in the best interest of the children.
Divorce v. Dissolution
As the result of a Divorce and a Dissolution are the same — the marriage is terminated. The question of which proceeding is in your best interest is something that you need to discuss in some depth with your Cincinnati-based Domestic Relations Lawyer. Some of the considerations include cost, time, and the need for temporary orders. These temporary orders are available in a divorce proceeding, but not in a dissolution.
Juvenile Custody and Support
In the State of Ohio, if a couple has a child and is not married, custody and support of that child are under the jurisdiction of Juvenile Court. While the legal issues are very similar with regard to the custody and support of a child that is born to a married couple, there are significant differences between Domestic Relations and Juvenile Court in both procedure and substantive law.
Either way, the Ohio courts always try to act in the best interests of the child. When determining child custody, the judge will listen to what each parent claims to want for the child's care. In many cases, if the child is old enough, the judge will also speak with the child to determine what the child wants.
The court will also observe and evaluate how the child interacts with each parent and with other family members. Judges avoid breaking up siblings whenever possible, and try to keep all relationships between family members intact. With that in mind, the Ohio courts try to opt for custody arrangements that continue and preserve existing relationships, and strengthen those bonds. If some degree of continuity can be established — by keeping the child in the same house or at the same school — this often enters into the consideration as well.
Courts will also take into account whether or not both parents have respected previous custody decisions. Did both parents fulfill their obligations to child support and child care time? Did both parents follow the agreed-upon timing for visitations, holidays, and other schedule concerns?
If there was any abuse in the family, either in the immediate family or among extended family, this will enter into the decision-making process too. Sexual abuse, domestic abuse, and any other potential forms of abuse will be reported and entered into the public record for the judge to consider.
Post-Divorce Issues
After a couple is divorced there are often issues that must be addressed later, sometimes even years later. As children grow, there can be a change in circumstances requiring that the custodial arrangement be modified. Similarly, as the result of a change in financial circumstances there is often required a modification in the amount of support that is paid. Also, a party may not be following the Court's earlier order regarding support, visitation, or property division, and the Court will then have jurisdiction to determine whether that party should be held in Contempt. The family attorneys at Donnellon, Donnellon & Miller are well versed in all of the post-divorce issues that may arise, and can resolve or address any of these issues with you in the most streamlined and affordable way possible. The goal is to make any of these modifications – or to enforce any situation in which one party is not adhering to the court orders – with as little friction as we can.
Adoption
Before entering into an adoption agreement, whether it is with an individual surrogate mother or an adoption agency, it is advised to work with a family attorney. It is essential to understand your rights, whether you are the prospective adopting parent, the surrogate parent, or the parent putting your biological child up for adoption. A family attorney can guide you through the often-labyrinthine process of adoption. If you are trying to adopt, or are considering serving as a foster parent before adopting, there are many potential hurdles you will have to contend with. For one, you will need to present yourself to the adoption agency in the best light. An attorney can assist you with the application process, and can help protect you in the event of an adoption agency that is attempting to circumvent or dishonor their contractual agreements. Frustratingly, adoption is not an easy or a simple process, and there are many potential pitfalls you will need to avoid. On the legal team at Donnellon, Donnellon & Miller, we have Cincinnati-based attorneys who have an extensive background in dealing with adoptions.
Other Reasons to Contact a Family Attorney
There are additional matters, such as paternity, interstate jurisdiction over custody and support, dependency matters (neglect and abuse), guardianships, and criminal non-support, which are not addressed above, that an individual would certainly need the assistance of a Family Lawyer to resolve.
Family Law issues are complex and can be overwhelming. It is important that you are comfortable with your attorney, and that he or she is readily accessible to you to address your questions or concerns.
At Donnellon, Donnellon & Miller, we take pride in having attorneys who are sensitive to the delicate nature of these negotiations and discussions. Family law requires finesse, and calls for an innate ability to diffuse tension. If you choose to work with our team, we can assist you in managing the complex emotional terrain of these proceedings.